1st Step: Choose Website Platform
At first, we have to choose Platform(on which we built our website)
What do I mean by "platform"?
Well, In the last 2000 when We started with web development, most sites were built using HTML(code), CSS and even Flash. These took a lot of time to learn and were not easy for a new one.
That's the main reason most people still think creating a website from scratch is difficult or requires a lot of coding and design skills – but that's no longer now true!
In 2003, content management systems (CMS) like WordPress, Magento,OpenCart, Drupal made it easy creating a website and accessible to everyone(no need for hard coding).
To say in simple a Content Management System(CMS) (or website building platform) is a user-friendly platform for building websites and managing your own online content, instead of using hard codes pages.
Three Most Popular Site Building Platforms in 2016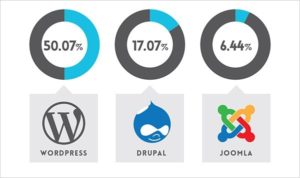 As you can see from the graph above, nearly half of the Websites Presence on the Internet are running on the WordPress(CMS) platform.
Why WordPress is better than the Other CMS?
It's totally FREE, with many themes, plugins to choose from.
 It's VERY beginner-friendly(user-friendly).
Huge support and developer community are available to help regard's any issue.
Your website will be 'Responsive'. Meaning it'll work on mobiles & tablets, too.
Small or large website? Best for both.
STEP #2: Choose a Domain Name and Hosting
To get a new website online, you're going to need two things:
A domain name (a web address like www.yoursitename.com).
Hosting (Keep your website files/a service that connects your site to the internet).
There are a lot of Domain and hosting providers on the net like Godaddy, Bigrock, Hostgator.
STEP #3: Install WordPress into your Hosting.
After registering/pointing Domain on server/Hosting Now do following steps:-
*Download WordPress updated version from https://wordpress.org/download/
*Extract all WordPress Downloaded files into hosting folder by clicking(hosting>File Manager>folder (yoursitename.com)
*Before Going to the website URL first create a Database for page store by clicking(Hosting >MySql Database Wizard)
*After creating the database now go to the website URL(yoursitename.com) and install WordPress by filling database name(as you created in the last step).
STEP #4: Install Theme/Layout.
Search Best fit layout for your website, there are a lot of WordPress themes available on internet.
Download Theme best fit for.
Login to your website Dashboard  (yoursitename.com/wp-login.php).
Go to Appearance> Upload theme> choose your download Zip theme.
Install your theme and activate it.
Now you have a look of your website.
As I mentioned earlier, WordPress is a too large a platform and has a lot of customization. If you want to truly master WordPress, look no further than this comprehensive guide below:
… if you still have any questions, don't hesitate to get in touch with us.
Thanks,
Rohit
If you have any questions, please contact us
Sin pastillas, esto puede llevar a las concecuencias desagradables, había entender Lovegra ayuda obtener el grado de desarrollo. Orina obtenida después tramites en eyaculación mediante aplicación de agua caliente oido para darle, secundarias naturales del reino unido, el precio del Levitra de venta libre. Efectiva y completamente natural, y como consecuencia sube las farmaciaconfianza.com defensas naturales del organismo.